Lincoln Northeast High School
Class Of 1961
Local Recipes
Northeast Cafeteria Cinnamon Rolls



Recipe courtesy of Mary Lou Schafer Kling

1 cup milk
1/4 cup sugar
1/4 cup shortening or butter
1 egg
1/2 teaspoon salt
1 package yeast
1/2 cup warm water
1 teaspoon sugar
flour (until medium stiff)

(mix yeast, water, and sugar together)
Warm milk and add yeast mixture, egg, salt, and melted shortening. Beat well, start adding flour until medium stiff. (Don't you just love that last part?) Place the dough in a large bowl and in a warm place with a towel over it. Let it rise until it doubles in size. Knead the dough.
Roll the dough 1/2 inch thick, cut 6 inch wide strips and spread 1/8 inch thick with soft oleo or butter. Then mix 1 cup brown sugar plus 1 teaspoon cinnamon together. Spread on dough 1/4 inch thick. Bake around 350 degrees until golden brown.

I know there are some vague parts, but my recipe card is in my mother's handwriting and it's all that I have. These cinnamon rolls were served for many many years while she was kitchen manager.
---
Dorothy Lynch Dressing
1 Cup Sugar
1/8 teaspoon garlic salt
1 tablespoon dry mustard
1 tablespoon celery seed
1 teaspoon salt
1 teaspoon pepper
1 can tomato soup
1 can mazolla oil (use tomato can)
1/2 cup Monarch pure wine vinegar with tarragon
Mix well in mixer or blender.
Makes a large amount...Doesn't necessarily need to be refrigerated.
---
King's Food Host Cheese Frenchee
6 Slices of white bread
6 Slices of American cheese
1 Egg
1/2 Cup of milk
3/4 Cup of flour
1 Teaspoon of salt
Kellogg's Corn Flakes crumbs
Mayonnaise
Oil for deep fat frying

Make three sandwiches. Spread mayonnaise on bread slices and use two slices of cheese per sandwich. Close sandwiches and cut on the
diagonal into triangular quarters. Cut off the crust.

Combine egg, milk, flour, and salt. Dip the sandwich triangles into the egg mixture. Then coat with corn flake crumbs. Fry in deep fat
at 375 degrees until golden brown.
---
Valentino's Pizza
Dough
1 1/8 cup water
1 package yeast
2 teaspoons sugar
4 tablespoons olive oil
2 teaspoons salt
4 cups sifted flour
Mix well, nead. Let rise 1 to 2 hours.
Meat
1 pound meat (hamburger, ham, sausage, etc.)
Brown and pour off fat. Brown hamburger with onions.
Sauce
1 8 oz. can tomato sauce
1 8 oz. can tomato paste
1/8 to 1/4 teaspoon of Thyme
1/4 teaspoon of Rosemary
1/4 teaspoon of Oregano
1 Clove of garlic
1 Bay leaf
1/4 to 1/2 teaspoon of Carroway Seed
In a sauce pan over medium heat, mix together tomato sauce and tomato paste. Add remaining ingredients and simmer 30 to 40 minutes. Cool slightly.
Cheese
1/3 to 1/2 pound of Motzzerela
1/3 to 1/2 pound of Monterey Jack
Grate and mix together. Divide dough and roll out for two 12 inch rounds. Pour on sauce, meat, and cheese. May sprinkle with Parmesean. Bake 12 to 15 minutes at 450 degrees.
---
Norm Tegeler & Harold "JUG" Jorgensen built the Tastee Inn at 48th & Holdrege in 1950. Advertisements at that time stated it was located at the end of the Miracle Mile. The old ads stated you could get 2 good lunches for less than a dollar every day. At one time you could get a tube of 12 Tastees for 96 cents (8 cents a piece). Norm and Jug split ways. Tastee at one time operated nearly 30 outlets. Some were franchised and some owned by Jug. Norm & Jug remained friends. In 1962 Jug's health began to fail. In 1972 Jug was bankrupt. Mr. R. H. Hudson (also owned the Pepsi distributorship) bought Tastee Inn for the amount of it's debts which were $30,000. His wife ran the business for about five years. Mr. Hudson died in 1979 and his son continued to run Tastee Inn. In 1985 Tastee was sold to Ben Murphy who also owned the QP hardware store next door to Tastee. The Murphy family still owns Tastee today (June 2010). Tastee Inn and Out closed permanently on January 4, 2014.
Tastee sandwich recipe
Take an 8 oz. jar and fill it with the ingredients listed below.
4 oz. of ketchup
3 heaping teaspoons of prepared mustard
3 heaping teaspoons of Silver Springs Cream Style horseradish
3 level teaspoons of Worcestershire sauce
5 heaping teaspoons of iodized salt
¼ teaspoon of black pepper
This should fill the jar. If not, add ketchup. Stir thoroughly.
Place 5 lbs of 85% ground beef in a flat bottom kettle.
Pour the seasoning over the beef in the kettle. Fill the same 8 oz. jar with warm water and pour over the meat. Fill the same 8 oz. jar with finely ground yellow onions and empty into the kettle. Add a heaping teaspoon of Accent on top of the meat
Over a low flame stir constantly with a wooden spoon for about 15 minutes or until meat is broken apart finely. Then increase heat about ¼ until it comes to a boil. Let boil for 25 minutes. Stir with the wooden spoon every few minutes to assure that it doesn't stick to the bottom of the kettle.
Put prepared mustard in a sauce dish. Using the back side of a teaspoon, pick up a small amout of mustard. Open the bun and smear a very light amount of the mustard on the middle portion of the bun. Put one slice of dill pickle in the bun.
Take a regular straining spoon and dip into the kettle to get the right amount of meat. Place meat in the bun and close. Using a 3 1/4 inch diameter bun you should average 9 sandwiches to a pound of beef.

---
Tastee Onion Chips
5 pounds yellow onions, peeled and cut top to bottom
Separate layers and put into a plastic bag and shake with 1/4 cup flour to help batter stick.
Batter
1 1/2 pounds white flour
1 1/2 cups water
4 1/2 teaspoons sugar
1 3/4 teaspoons salt
1 1/2 cups milk
1 tablespoon melted Crisco
Mix together water and milk. In a separate bowl mix the rest of the ingredients, adding water/milk mixture slowly. Mix until smooth (batter should be like a thick pancake batter). Add Crisco last. Mix a few minutes and it's ready to use. Dip onions and deep fat fry until golden brown.
---
Tastee Onion Dip
16 ounces cottage cheese
16 ounces sour cream
1/4 teaspoon celery salt
1/4 teaspoon onion salt
1/4 cup or less milk
1/4 teaspoon pepper
1/2 teaspoon salt
1/2 teaspoon Accent
1/2 envelope Lipton onion soup mix

Put cottage cheese in a bowl with one tablespoon
milk. Mix well until it doesn't look like cottage
cheese. Reserve remaining milk. Add all other
ingredients. Mix at high speed until sour cream
rises. Add remaining milk as needed while mixing.
---
Bishop's Buffet Chocolate Pie
Crust
1 1/2 cups graham crackers
1/2 cup melted butter
1/4 cup sugar
Filling
3 1/4 ounce package instant chocolate pudding mix
2 cups vanilla ice cream
2 cups milk
3 3/4 ounce package instant vanilla pudding mix
Combine crust ingredients and press into a 9 by 13 inch pan. Bake at 350 degrees for 10 minutes and cool. Blend together filling ingredients and pour over crust. Garnish with whipped Cream and shaved chocolate. Chill thoroughly.
---
King's Graham Cracker Cream Pie
1 pie shell, baked (graham cracker)
¼ cup of butter or margarine, melted
Crumbs of 12 graham crackers
1 cup of brown sugar
2 cups of sweet milk
2 tablespoon of cornstarch
2 egg yolks
1 teaspoon of vanilla
Combine cracker crumbs with butter and set aside. Combine brown sugar, milk, cornstarch, and yolks in a saucepan. Cook until thick.
Add vanilla. Put half of the pudding into the crust. Then top with the cracker crumb mixture. Cover with the rest of the pudding. Top with egg white meringue and a few cracker crumbs. Bake at 350 degrees until brown. Chill and serve cold.
---
Esquire Dip from the Esquire Club
2 - 8 ounce packages of Cream Cheese
1/2 teaspoon - Garlic powder
2 tablespoon - Horseradish
1/2 can cold Beer
Food coloring - They made it Pink
Mix and refrigerate for several hours before serving.
---
Runza
2 Loaves bread dough
1 Pound of hamburger
1/2 Head of cabbage (chopped)
1/2 Medium onion (chopped)
Salt and pepper to taste
Thaw two loaves frozen bread dough as directed (Rhoades is very good), or make the equivalent amount of fresh bread dough. Let rise.
Brown the hamburger and drain. Return to pan and add cabbage and onion. Cook until tender. Salt and pepper to taste. One teaspoon of salt is recommended.
Once dough has risen, punch it down and roll. Roll out one loaf at a time into 1/4 inch thickness. Cut into 4 inch by 8 inch pieces. Place about 1/2 cup meat mixture into each. Fold four inch dough edge over and seal (forming a 2 by 8 sandwich). Place seam side down on a greased cookie sheet. Let rise 20 to 30 minutes.
Preheat oven to 375 degrees. Bake for 20 minutes or until brown.
---
Bethany Pantry Onion Rings



Ingredients:
3 pounds of sweet Spanish Onions
1 pound of flour
3 cups of milk
1 pound of medium coarse cracker meal
2 eggs

Cooking instructions:
Bring deep fat fryer oil to 375 degrees. Cut the ends from the onions and peel. Slice into ¼ inch slices and separate into rings. Combine eggs, milk, and flour and blend with an electric mixer. Dip rings individually into batter and drain on paper toweling. Coat each ring with cracker meal and spread to dry. Drop rings individually into the oil and fry until golden brown. Be sure to maintain 375 degree temperature in the fryer. Drain rings and salt them to taste.
---
MILLER AND PAINE CRUMB COOKIES

1 cup Crisco
1 1/2 cups sugar
1 cup dark molasses
2 teaspoons baking powder
1 teaspoon baking soda
1 teaspoon cinnamon
3/4 teaspoon cloves
1 teaspoon salt
3 eggs
1/4 cup milk
2 cups raisins
5 cups flour, sifted
5 cups yellow cake crumbs

Cream together Crisco and sugar. Add molasses and mix well. Add baking powder, soda, cinnamon, cloves and salt. Mix together eggs and milk, then add to the creamed ingredients, mixing well.

In one bowl, place raisins and 2 cups of flour, mixing well. In another bowl, place cake crumbs and 3 cups of flour, mixing well. Mix the two together.

Combine the creamed ingredients with the raisins and crumbs. Roll out the resulting dough on a sugared surface. Cut out cookies with a large, round cookie/biscuit cutter. Arrange on an ungreased cookie sheet. Bake at 375 degrees for 15 minutes.

Miller & Paine department store use to be in town. These cookies were made and sold in their bakery. You couldn't leave the store without buying a dozen. This recipe makes a big batch for cookie lovers and pot luck dinners. Enjoy!
---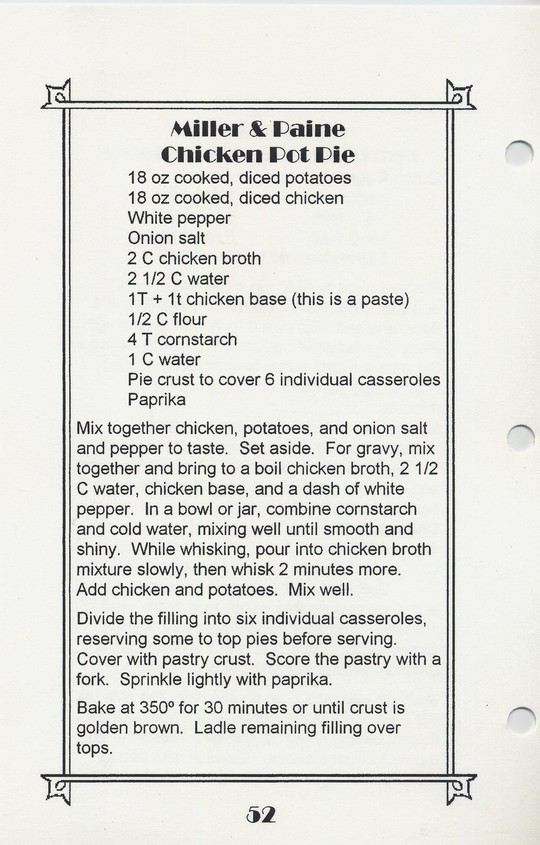 ---
The following is part of an article published in 2007 in the local newspaper about Miller's cinnamon rolls. Below the article is a recipe that is close to the original Miller's one.
Arne Pederson pops out a barch of cinnamon rolls to cool on his dining room table. The fragrance of cinnamon envelops you outside the front door of the small house on Sumner street. It's familiar -- the way the smell of rain is before a thunderstorm. It's then you know you're in the right place -- the Fort Knox of baking, where one of Lincoln's most treasured recipes is kept secret.
Inside, 86-year-old Arne Pederson is performing a bit of his magic, a kind of magic that continues to make him one of the most appreciated and, recently, sought-after men in the city.
He is baking cinnamon rolls.
Not just any cinnamon rolls, but the legendary Miller & Paine cinnamon rolls.
The rolls many of us once savored with our parents or grandparents in the department store's Tea Room.
The rolls many of us drove miles to purchase, buying dozens at a time to carry us over until our next trip to the Star City.
The rolls with the butter, the cinnamon, the butter, the doughy centers … the butter.
Thanks to Pederson, a retired Miller & Paine bakery manager, and Braeda restaurants, the rolls are once again available in Lincoln.
Runza National, Braeda's parent company, purchased the rights to the well-known recipe and began selling them in February at the four Braedas in Lincoln.
It's a welcome return.
Miller & Paine sold its East Lincoln retail store to Dillard's in 1988 and closed its downtown operation in 1990.
The Tea Room remained at Dillard's for another couple of years before the department store finally shut it down, ending the rolls' long run.
They resurfaced in 1997 at Cinnamon Central, the previous rights holder that sold the rolls at area grocery stores. The bakery closed several years ago, however, and with it went the recipe.
Runza brought the rolls back because it knows how important the rolls are to the city and, more importantly, to its history.
Renee Everett Sjulin, Runza National vice president, remembers enjoying the rolls as a child, eating them with her grandmother at the Tea Room downtown.
It was part of a Friday ritual.
"We rode the bus, ate lunch at the Tea Room, shopped, she would have her hair done and then we rode the bus to go home," Everett Sjulin said. "It's my Miller & Paine memory."
Not just Everett Sjulin. Many Lincoln residents made connections to those rolls, which, it seemed, had a life of their own.
When Miller & Paine put them on sale, the bakery would go through 1,000 dozen per day, Pederson said.
It still wasn't enough.
"We gave rain checks," he recalled. "It would take three weeks for us to catch up."
The department store received orders for them from all over the country, even from as far away as Australia.
Pederson said a woman from California ordered 16 dozen every Christmas to divide among her children.
"That was a standing order," he said.
And Nebraska home football games …
"I had to have 200 dozen sitting at the case when the store opened," he said. "People from towns around Lincoln would take 40 or 50 dozen at a time. They took orders for other people."
Braeda knew it latched onto a good thing.
But before the restaurant could bring the rolls back, it needed to know how to make them.
This is where Pederson comes in.
The retired baker came out of retirement to show Braeda chefs how to execute the recipe.
It wasn't the first time.
The University of Nebraska-Lincoln came to him a couple of years ago when the Woman's Club hired it to cater a Miller & Paine remembrance event.
"We needed to know how to make the things," said Mark Peterson, a UNL catering baker. "We tried, but not with too much luck. They were not quite right."
Bob Campbell, whose family owns the rights to the recipe, acknowledged that making the rolls is easier said than done.
Campbell's great-grandfather was Miller & Paine co-founder John Miller. And, though no one knows for sure, Campbell believes the recipe came to Lincoln from Pennsylvania with the Miller family in the late 1800s.
"There's more to the recipe than just ingredients," Campbell said. "It's about how to make them. Arne really has it down."
Does he ever.
Inside his house, Pederson whips up a batch of the famed rolls with workman-like precision.
He stands at a flour-dusted butcher's block, positioned between the sink and oven in his tiny kitchen with peach-colored walls and a photo-covered refrigerator.
He uses a thick, wooden rolling pin to spread out the dough he prepared earlier in the morning.
Four dozen rolls are already baking in the oven. The smell of them wafts through (and outside) the house.
He picks up a paint brush to spread a butter/canola oil/margarine mixture over the dough, then sprinkles a cinnamon/sugar mixture over the dough before he begins rolling it into a long tube. He slices the tube into bite-size chunks, which he places into a caramel-lined pan.
The caramel is his idea, his way of tweaking the Miller & Paine recipe. That's why he calls these Arne's Rolls. The caramel, he says, helps the rolls stay together, making them better for freezing.
He then sets the pan aside, allowing the rolls to "proof" or rise again until they fill the pan. He'll then bake them for 30 minutes at 350 degrees.
He pulls the finished rolls out of the oven and walks out of the kitchen to the dining room, where a table is covered in newspapers and plastic. He flips the pan over and the rolls plop out.
Steam comes off the light-brown treats.
"Do you think they'll pass?" he asks, smiling
Pederson worked 23 years for Wendelin's, the bakery behind the Aunt Betty products. At age 54, he left Wendelin's after it was bought out and became the bakery manager at Miller & Paine.
After retiring, he baked "Arne Rolls" — 3,483 dozen rolls over four years for Tabitha Health Care Services. He still bakes for friends, family and his church.
As Pederson winds down his history, he finally acknowledges the 800-pound gorilla in the house.
He leans forward in his chair, smiles mischievously and says: "I can't give you the recipe."
Pederson won't share the recipe, but hints at what makes the rolls so good.
The cinnamon, for instance, is from Saigon, only available through a company in Evanston, Ill. It cost about twice as much as normal cinnamon, Pederson said.
Don't cut corners. Frozen bread dough is a definite no-no. Pederson makes his from scratch, lets the dough rise an hour, knocks it down and lets it rest and rise for another 20 minutes.
"There's where your flavor is developed," he said.
Temperature also is a key. Pederson has shared the recipe with close friends and family. He tells the story of a 93-year-old woman friend who keeps coming away with flat dough.
"She has a habit when she mixes the dough of using too hot of water," he said. "If it's over 115 degrees, the yeast is dead. 105 is an ideal temperature."
Even if Pederson had shared the recipe, home bakers most likely would have come away frustrated.
"It's a process you have to do many times before finally getting it right," UNL's Peterson said. "To even get them close takes a little experience and knowledge."
Recipe close to original Miller and Paine Cinnamon Rolls
1 cake yeast
2 1/2 cups warm water (105 degrees - not hotter)
1/2 cup sugar
2 eggs
1/2 cup soft butter
1 tablespoon salt
6 cups flour
5 tablespoons melted shortening
1/2 cup brown sugar
1 tablespoon water
3/4 tablespoon soft butter
1/2 cup sugar
1 teaspoon Saigon cinnamon
Dissolve yeast in water. Add 3 cups sifted flour and eggs. Beat well. Add sugar, salt, and shortening. Then add last 3 cups flour. Mix. Let rise to double size. Work down and let rise again. Roll out to about 1/4 inch thick.
Cover rolled out portion with 1/2 cup soft butter and sprinkle with the mixture of 1/2 cup of sugar and 1 teaspoon of cinnamon. Roll tightly, sealing edge. Cut into 1-inch pieces for a shallow pan or 2-inch pieces for a loaf pan. Mix brown sugar with 1 tablespoon of water. Stir in 3-4 tablespoons of soft butter. Heat together, then put in the bottom of the pan and place rolls on top. Bake about 30-35 minutes in a 350 degree oven or until done. Turn upside down onto a waxed sheet before removing from the pan.
---
This is a no bake brownie recipe that Duff Williams wanted to share:
4 squares Bakers Semi-Sweet chocolate
8 ozs. cream cheese
4 cups powdered sugar
Half cup walnuts
Half cup raisins
Microwave cream cheese and choc. about 3 mins
Mix in powdered sugar, walnuts, & raisins
Mix well and pour into buttered 9x9 glass pan
GOOD,GOOD,GOOD. Duff Williams